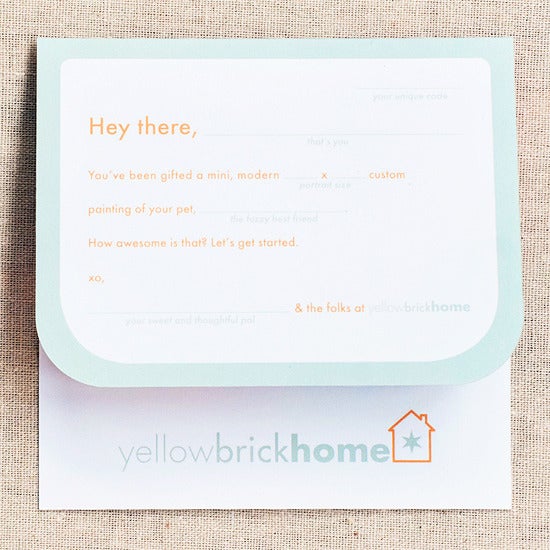 The gift of custom pet portraiture is a unique and cheerful way to show off your sweet side, you thoughtful friend, you. Our gift certificates allow the recipient to take part in the fun creation process, earning you cool points – while taking away the fuss and muss. Gift certificates are redeemable towards any sized custom pet painting and are printed on 5″x5″ beautiful matte, art recycled paper and come with a petal envelope and sticker enclosure.
Just like the one-of-a-kind portrait, the certificate requires your custom touch by using fun and quirky ad-lib style text. Inside, you'll find samples of our work (see even more in our pet gallery!) and simple steps to redeem. A unique code is given to each one and portrait size and expiration is filled in by us. The rest, however, is up to you to write as you wish. (Yes, feel free to call 'em sweetums.) There are a few other things to mention, such as these:
Certificates expire within one year of purchase month.
If you select 2 pets on 1 canvas, your gift certificate will come with 2 name fields - one for each pet.
Shipping price of certificate includes pre-paid postage for the finished portrait(s) and will be applied at checkout. If the giftee resides in a country different than yours, please contact us for a quote.
If you have multiple certificates being gifted to one person, please contact us for a quote. This will save you on shipping costs and bring your total down.
Certificates can be sent to you or directly to the giftee and will be mailed within 2-3 business days of purchase date. To provide special shipping instructions (i.e., if the certificate is going directly to the recipient), click "add" Note to Yellow Brick Home during checkout.
10% of the proceeds from this product go towards supporting nonprofit animal rescues. Click
here
to see who we're currently partnering with!